About Us
About The Company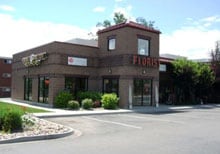 About Us
We are a family owned and operated flower shop, since 1972! We have a wonderful small staff of experienced designers. We specialize in high-style contemporary, tropical designs, including fresh orchids and plants direct from Hawaii. The owners, husband and wife, Dennis & Sue have lived in Broomfield since 1960! They are both graduates of Broomfield High School, as well as their son, Cory! They are all actively involved with the local schools to help with fundraisers! In addition, they are Broomfield Chamber Members, past Chamber board members and past Presidents of the Rocky Mountain Unit of Teleflora. Dennis and Sue say it best, "We see the growing need for unique floral designs and gift items....we always welcome new ideas and possibilities! Supporting our community is our top priority! With our small local business, your dollar stays local!"
Our Product
We are proud to carry so many unique varieties of flowers and plants as well as offering completely custom designs to meet your floral needs! With that being said, if you have a special request for a specific type of flower(s), we are happy to order them in for you! Please call us ahead of placing your order and allow us a few days to receive the flowers from our growers. Our in shop walk-in cooler is always full of gorgeous, freshly made arrangements that are 'grab-n-go' style for our customers who need something on the fly!
When ordering an arrangement from us, we do our best to have all the flowers needed in your order. However, there are times we are unable to order in certain flowers that might be in your selected arrangement. In this case we do substitutions. This means that we use a similar type of flower of equal value in place of what we don't have in. Your order will be just as beautiful! If this is a concern, please call us ahead of placing your order to see what we have in stock for you!
We take pride in the job we do and 100% guarantee our flowers, if you are unsatisfied for any reason with your order, please call us and we will make it right!
Add-Ons
In addition to your plant and or flower arrangements we offer an assortment of add-ons! These include: snuggle buddies (call us to see which animals we have in), chocolate truffles, locally handmade charm bracelets, hand-designed cold/hot drink cups, gift certificates, locally hand-made cards, locally made ceramics, and a 'Tip Your Driver' add-on! We are a one-stop kind of shop! As always, call with any questions!
Deliveries
Our shop delivers to; Broomfield, Westminster, Thornton, Lafayette, Louisville, Erie, Superior, and parts of Arvada. The cost of delivery in Broomfield is $12 and all other locations listed are $15. We also deliver to further areas for special events (delivery cost varies). Please call us to inquire! Due to the high volume of daily deliveries, we can't promise any specific delivery time, however, we can promise your order will still arrive on the day you selected. If you have a time sensitive order, please call to see if we can work out a delivery time that is best for you. If the recipient is not home, we will leave the arrangement on the front porch ONLY if the weather permits and the porch is protected from sunlight. If we are unable to leave the arrangement due to poor weather or an unprotected porch, we leave a tag on the door and call the recipient to reschedule a better delivery date/time. We can also leave the arrangement with a neighbor upon request. For apartment deliveries, we will leave arrangements either at the front door step or at the leasing office if necessary. Some leasing offices don't accept floral deliveries, so double check that the recipient will be home or has a leasing office that accepts our deliveries. For gated apartments/communities, we NEED A GATE CODE or else we are unable to get in!
Weddings
We specialize in making our brides' floral dreams for their special day come true! If you are interested in a wedding consultation, please call ahead to schedule a 30 minute appointment. Please bring in any photos, 'Pinterest' pictures, and or fabric swatches that you may have, as they help us to see your vision even more! We can't wait to be a part of your special day!
Funerals
Our shop also specializes in sympathy arrangements for any celebration of life service. We work directly with Rundus Funeral Home, In Memoriam Funeral Services, as well as others. We design; casket sprays, standing sprays, wreaths, urn rings, vase arrangements, and other special requests to honor your loved one. Check out our "Occasions" tab and click on "Sympathy" to look at what we can do. We are here to comfort you, and design something beautiful during this difficult time.
Bouquet Boutique, Inc.
290 Nickel St.
Broomfield, CO 80020
---
Store Hours:*
*Our shop is open Monday through Friday from 11:00 to 4:00 Saturday 11:00 to 2:00 and we are closed on Sunday We are closed on the Major holidays: Thanksgiving, Christmas, Memorial Day, 4th of July and Labor Day
Our shop will be closed on the following holidays: New Year's Day, Memorial Day weekend, Independence Day, Labor Day weekend. Thanksgiving Day, and Christmas Day. We close early on Christmas Eve and New Year's Eve. We are open limited hours on Mother's Day.
100% Guarantee

Our commitment to you is 100% satisfaction on all your floral and gift purchases. If you are not completely satisfied, let us know by calling (303) 466-1251.
Payment Options
We accept the following payment methods:
Visa
MasterCard
Discover/NOVUS
American Express
House Account
JCB
Privacy Policy
This privacy statement has been created in order to demonstrate our firm commitment to protecting customer privacy.

Information We Collect

If you open an account on our site or make a purchase, we need your contact information including your name, e-mail address and mailing address to complete your transaction.

When you visit our website, we also collect some basic information that does not identify individual users. We use this information to determine our users demographics and interests, so that we can better understand and serve our users.

"Cookies"

Cookies are small files which store certain information about your activity on the website and are stored on your computers hard drive. Our cookies do not contain any personally identifying information. We use cookies to let us know that you are a prior customer, so that you dont have to reenter information you gave us on your prior visits. Most web browsers automatically accept cookies, but most allow you to instruct your browser to prevent the use of cookies. However, if you disable cookies, you will not be able to use certain features of this website.

Our Use and Disclosure of Your Information

When opening an account or making a purchase, you have an opportunity to opt-in or opt-out from receiving emails from us. If you opt-in to receive information from us, we may use your purchase history, contact information and other registration information to provide you with more relevant information and email content. We may send emails to our users regarding changes in our services or other information we believe will be of interest to our users. If you prefer not to receive these emails, you can send us an email with the subject line no emails or reply to our email with the subject line no emails.

If you send us personal correspondence, such as emails or letters, or if other users or third parties send us correspondence about your activities on our site, we may collect such information. We may use that information and other information that we obtain from your use of our site to resolve disputes, troubleshoot problems and enforce our agreement for Terms of Use.

We may share aggregate statistics about our sales, traffic patterns and related site information with other businesses, but these statistics will include no personally identifying information.

We may share your information with Teleflora and other reputable vendors for the purpose of sending out special offers via email and/ or in connection with the services provided by our site such as the delivery of flowers. Your information will not be shared for any other purpose and will be kept secured.

We cannot ensure that all of your private communications and other personally identifiable information will never be disclosed in ways not otherwise described in this Privacy Statement. For example, we may be required to disclose information to the government or third parties under certain circumstances, or third parties may unlawfully intercept or access transmissions or private communications. We can (and you authorize us to) disclose any information about you to law enforcement or other government officials as we, in our sole discretion, believe necessary or appropriate in connection with an investigation of fraud, intellectual property infringements, or other activity that may be illegal or may expose us to legal liability.

Security

This site has security measures in place to protect the loss, misuse and alteration of the information under our control.

All user credit card information is securely communicated using secure socket layer (SSL) software, which is the industry standard and among the best software available for secure commerce transactions.

All user information stored on our server is stored in an encrypted format. Notwithstanding these efforts, we caution you that perfect security does not exist on the Internet.

Linked Sites

If this site contains any links to other websites, we are not responsible for the privacy practices or the content of such websites.

Changes to Privacy Statement; Consent

We may update this Privacy Statement from time to time. You should check this page periodically for changes. By using our site, you consent to the collection and use of your information by us as described in this Privacy Statement.

Questions and Comments

We welcome your questions and comments about this Privacy Statement.
follow us on instagram
tag us on instagram @ bboutique_broomfield
see what new and fun things we are up to....new items coming in daily !!